Work It Daily has helped THOUSANDS of people gain the confidence, skills, and knowledge they needed to achieve their goals. Here are a few people who have reaped the benefits of our program:
---
"I truly believe your advice made my resume and cover letter stand out from the hundreds of resumes and cover letters companies receive every day and now I will continue to use this secret technique going forward in my job search!"
- Hillary T., Work It Daily Customer
---
"Your advice set me apart from all the other candidates during the interview process! I got the dream job I wanted even during this economic crisis. Thank you for helping me become employed after four years of struggling."
- Dawn M., Work It Daily Customer

---
"I had my final interview today, and it went great! They want me to start ASAP! Thank you so much for all your help through this. I look forward to continuing to work many months (maybe even years) to come. Your website has been invaluable."
- Emily P., Work It Daily Customer

---
"I got an offer on Monday. Then, I got another offer earlier today. Excited! I also wanted to admit that I started getting "high" from the entire job search process. It feels great!"
- Vilich S., Work It Daily customer
---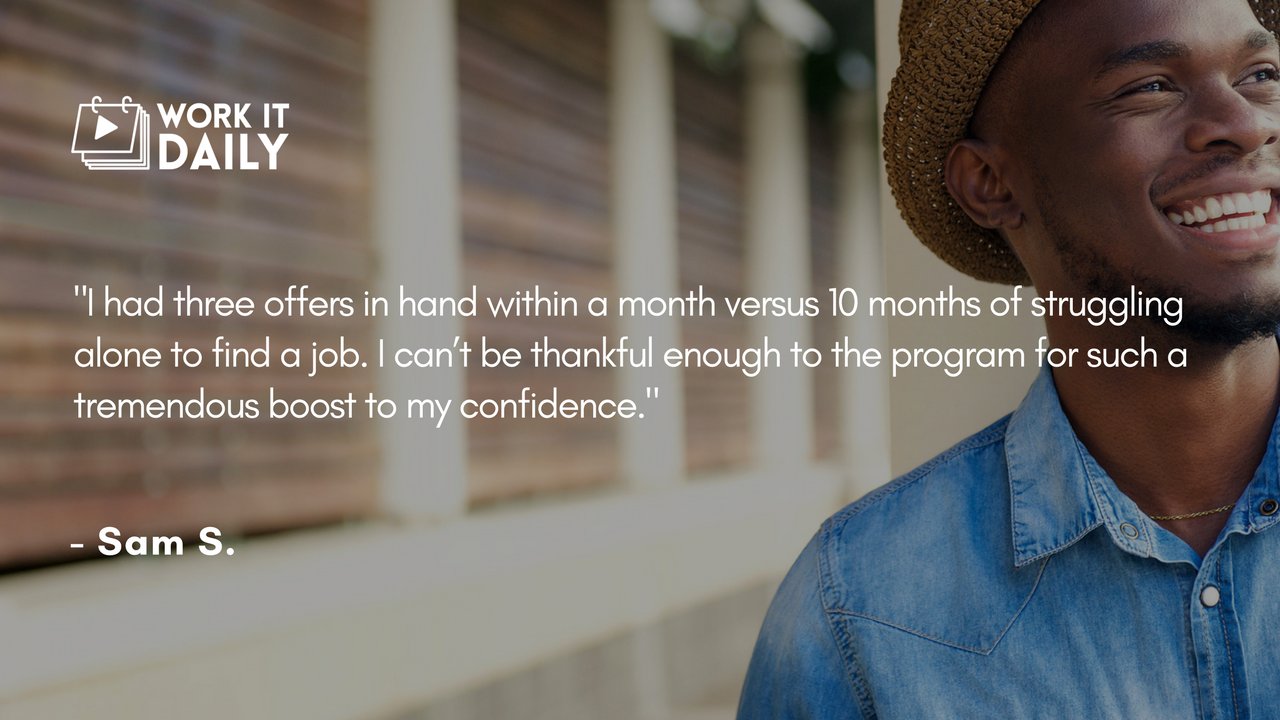 If you need help developing a strategic career plan, join us inside Work It Daily. We'll help you understand what types of strategy, tactics, and goals will work for YOU and your career.
What's included in your subscription?
When you sign up for our Professional Level Subscription, you'll get unlimited access to the following features:
Over 15 video courses
Private community
Q&A opportunities with our trained career experts
Downloadable materials
Resume reviews*
Cover letter reviews*
LinkedIn profile reviews*
Mobile-friendly platform
With your subscription, you'll get access to our ENTIRE library of online courses, which include:
The Complete Job Search Toolkit
The Resume & Cover Letter Plan
The Interview Prep Plan
Mastering Salary Negotiation: How To Negotiate For The Salary You Deserve
First 90 Days: How To Guarantee Success In A New Job
Fired To Hired: 8 Steps To Getting Back To Work
Mastering Networking: How To Confidently Network Your Way To More Opportunities
The Career Development Plan
The Job Search Plan
The LinkedIn Plan
The Professional Strengths Assessment
How To Improve Your Communication Skills At Work
Secrets To Becoming A Better Coach
The 21 Day Challenge
The Confidence Project<
(You can view the full course library here.)
Plus, you'll get access to our private Slack community so you can chat with our trained career experts and other members of the program.
How Does It Work?
Check out the following video to see how the subscription works.
Not only does Work It Daily provide you with trusted, easy-to-use career support that incorporates ALL of the elements you need to succeed (unlike other career development options, but it's also affordable.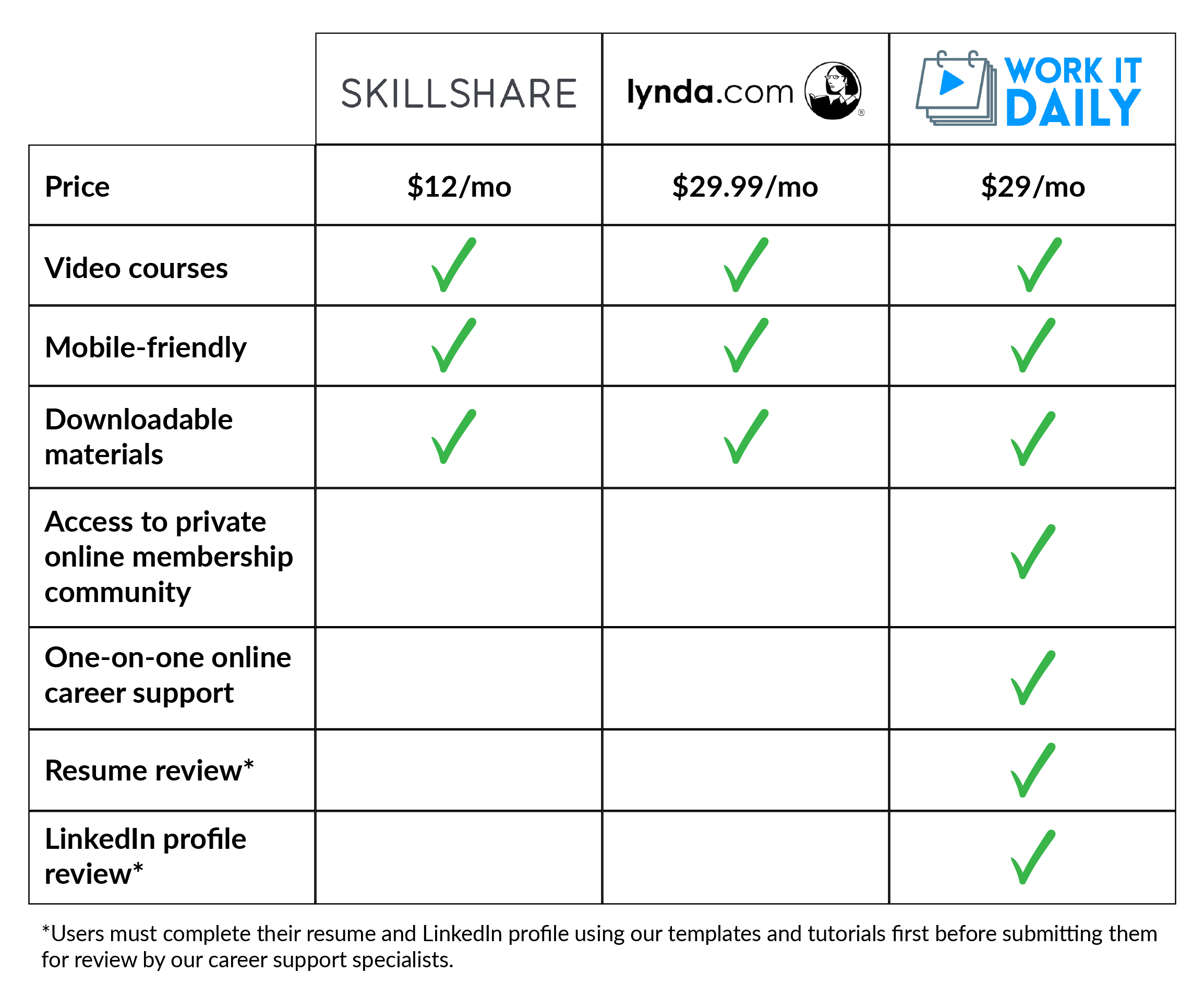 The combination of our online courses, coaching, and community (the 3 C's) will help you achieve your WILDEST career dreams, whether you want to land a job, earn a promotion, or just be happier at your job.
With our platform, you'll:
Stay on-track and accountable with our courses
Get career support from trained experts
Find the motivation you need using our private community
If you're not completely satisfied in the first month, we'll give you 100% of your money back - no questions asked.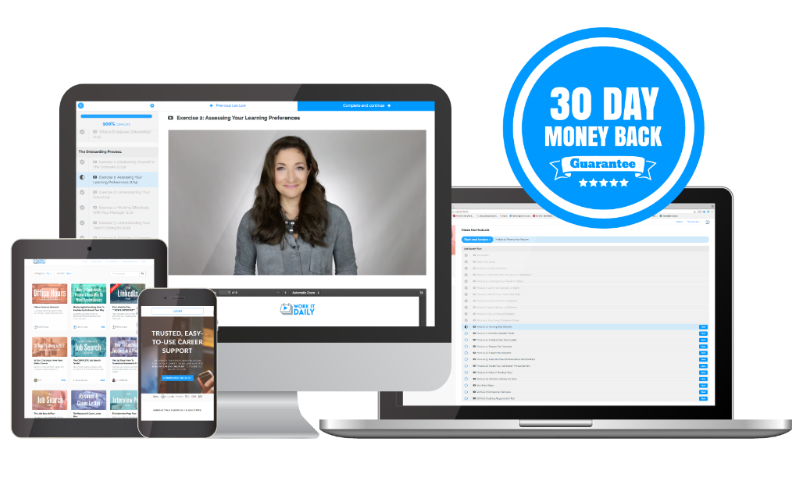 Don't stay stuck in your career rut. Don't waste time on a career strategy that isn't working. Sign up for a subscription to our platform.

Are you ready to get started?