Have a burning question about your job search that you need answered ASAP?
Wondering what you should say during a job interview if you were fired?
Having trouble with a co-worker and need some expert guidance?
Worried you'll say the wrong thing when asking for a raise?
Not sure how to handle a sticky situation at work?
Ask us anything.
If you're looking for answers to questions like these, we're here to help. Our brand new Work It Daily Career Coaching subscription will allow you to work with a team of trained career coaches who are happy to help you work through situations like these for an inexpensive price.

While there are some people out there who prefer using traditional career coaching, it's not accessible to everyone. In fact, we surveyed over 1,000 of our followers recently and only 13% of respondents said they were planning to hire a career coach in 2017. And we completely understand why...
Traditional (or "old school") career coaching services and platforms are expensive, inconvenient, and many are untested. Our NEW career coaching alternative allows you to get answers from a team of trained career experts in a timely, convenient manner at an affordable rate.

---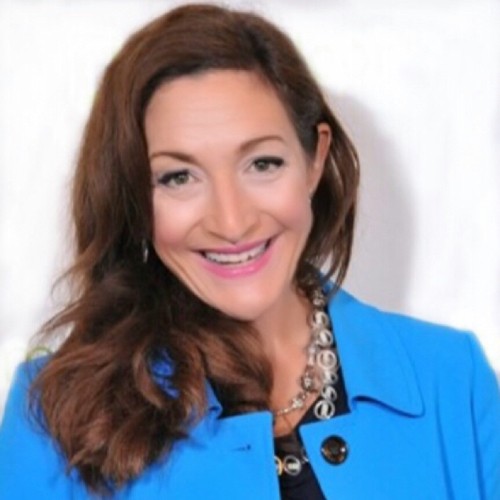 "Career coaching shouldn't only be accessible to the elite."
- J.T. O'Donnell, founder and CEO of Work It Daily
---
Our founder and CEO, J.T. O'Donnell, started this company with the goal of providing affordable career support to those who need it most. That's why the Work It Daily Career Coaching subscription is only $39/month with unlimited access to our team of trained coaches.

In fact, our career coaching alternative is one of the most affordable options out there. Other career coaching platforms cost you an average of $800/month, and that's not including the pay-per-session options with "higher end" coaches, which can be up to $1,700/session. INSANE!
How can we do this? Well, because we don't hire independent career coaches to serve our customers, we have less overhead costs. Therefore, we can charge less for the same advice. Further, our career coaching services complement the courses in our course library. Most customers can get the answers and strategy they need by simply working through the right course. Our coaching services are there in the event they need additional guidance.

When you sign up for the Work It Daily Career Coaching subscription, you'll receive unlimited email support that's private, personalized, and on-demand. Whenever you have a question for us, all you have to do is email us and we'll get you an answer within 2-business days, guaranteed (and usually, it's much faster than that!).
Other coaching platforms and independent coaches require you to make appointments and set aside hours of your time in order to meet with them and get your questions answered. We make you a priority because we know you don't have time to waste, especially when it comes to getting a new job or making a big career move.

Our team of in-house coaches have all been personally trained by J.T. O'Donnell, a well-known career coach, LinkedIn influencer, and INC magazine columnist. Using her 20 years of experience in the development and delivery of HR, employment, recruiting, job search, and career development tools and resources, O'Donnell has helped thousands of professionals get back on their feet and find the career satisfaction they deserve. Here's what people have said about her guidance:
---
"Steve Jobs changed the computer, and J.T. changed the job search. It's been invaluable to have an expert guide me from lost at sea to captain of the boat. Always responsive and only an e-mail or call away, J.T. has built my confidence, fine-tuned my approach, and generated support and momentum for my career search. We've built an uncanny chemistry over our numerous interactions, and I feel lucky to work with someone dedicated to crafting my personalized approach. I fully endorse J.T. – she is a star!"
- Andrew L.
---
"My career coach (J.T.) helped me rebuild my confidence so I could pursue and achieve a career I had been passionate about since I had graduated college and never obtained. J.T. worked with me through every stage of the process including reviewing my marketing pieces, guiding me while I strengthened my personal brand and helping me prepare for informational and employment interviews. I am forever grateful to J.T. and the community at [Work It Daily] for providing me with the support I needed to make the transition from someone who is unsatisfied in her job to someone that is eager to make the most out of her new career."
-Teresa S.
---
"Your advice set me apart from all the other candidates during the interview process! I got the dream job I wanted even during this economic crisis. Thank you for helping me become employed after four years of struggling."
- Dawn M.
---
"You've done so much to turn my job search around and I can't thank you enough for your information and support! My last interview was the first time I truly felt like someone wanted to hear about me and didn't knock me for my lack of experience or degree! The interviewer gave me a sense of hope again."
- Melissa G.
---
"I had my final interview today, and it went great! They want me to start ASAP! THANK YOU SO MUCH for all your help through this! I look forward to continuing to work with you for many months (maybe even years) to come."
- Emily P.
---

When you sign up for the Work It Daily Career Coaching subscription, you'll receive unlimited email support from our team of trained coaches. Instead of having a single coach help you out, we're providing you with our whole team of coaches to make sure you get your questions answered as quickly as possible.
When you email your question to us, we'll answer you within 2-business days guaranteed. If you don't wish to continue with us, you may cancel at anytime. For more information on what's included, please see the graphic below.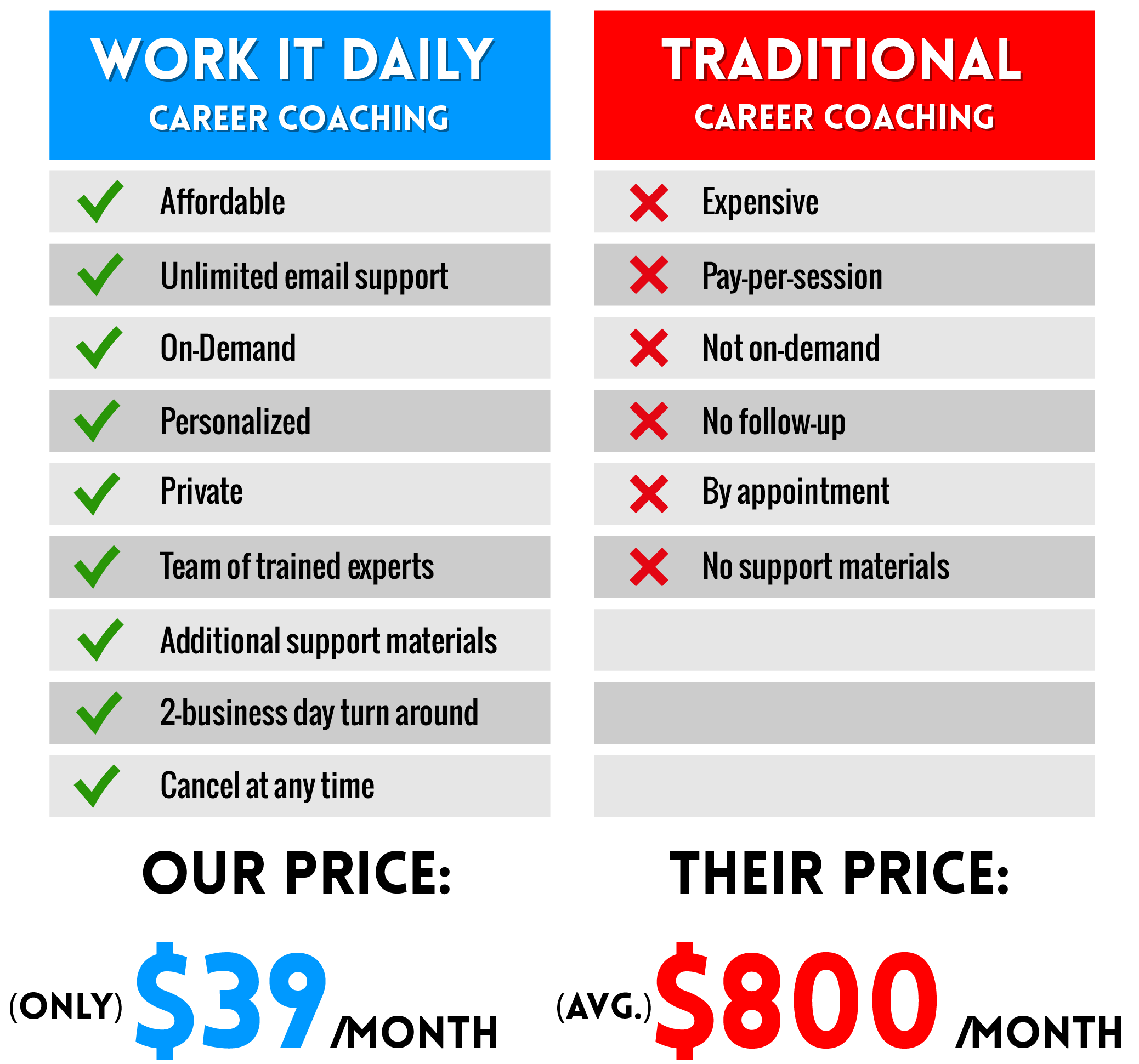 Also, before you get started, there are few things we need to reinforce.

1.) This is a monthly subscription. You will be charged each month until you cancel. You can cancel at anytime.

2.) There is a maximum 2-business day turnaround on emails. Also, our coaches do not work on weekends or holidays. Please take this into account when sending your questions.

3.) Your questions will be answered by SEVERAL coaches. You do not have one dedicated coach. Instead, you have a whole team of trained coaches to answer your questions so you get answers as fast as possible.
4.) You're encouraged to ask questions related to your courses, too. Our coaches will be more than happy to clarify anything for you. Ask us anything - course related or not.
5.) Coaching is strictly email-based. That way, you can ask questions privately and get timely responses.

Because this is an email-based service, we DON'T offer the following services within this coaching subscription:
- Coaching phone/Skype sessions
- Resume/cover letter rewrites*
If you have questions about this, or want to be referred to someone who can provide these services, please email us at [email protected]
*NOTE: We WILL review your resumes, cover letters, and LinkedIn profiles, but we strongly encourage you to go through our Resume & Cover Letter and LinkedIn courses beforehand. Email [email protected] regarding discount codes for these as part of the coaching program.

If you're ready to start taking ownership of your career but don't want to break the bank doing it, you should consider working with us. We pride ourselves on offering cutting-edge career advice at an affordable rate.
We'll help you work through specific situations at your job, prepare for upcoming interviews, regain the confidence you need to succeed in your career, and so much more. We're also here to help you work through our career courses offered in our Course Library if you have specific questions about the information.